March 18th, 2016
This afternoon, while having some lounge time and a cup of chai tea- I read the 'words of wisdom' that Yogi tea has on their tea tags.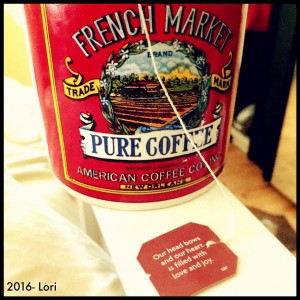 They are always a huge source of inspiration for me, and I'd recently thought that they needed some new wisdom, as I'd read all the ones that could be found in the chai I drink daily.    I couldn't help but smile as I read the words: Our head bows and our heart is filled with love and joy.
I love those words.   I find so much comfort and truth in them.
Pressing pause, and taking some time out for ourselves is one of the best gifts we can give ourselves.   One thing I know for certain is that when I am feeling stressed, overwhelmed, anxious, etc.   that taking a moment to pause-  (or sometimes more than a moment)- to let go of all the buzz around me and spend time in thoughts and prayer-   peace, love and joy rise in abundance.
Hope you have a fantastic weekend, spending time doing what YOU love and enjoy!
As for me-  weather permitting, I may take a cup of Yogi tea or a cup of coffee and start a painting project that I've got in the works.  I'm itching to get started.
Plus I'm on a scout for fruits, veggies, nuts, olives and avocados at the weekend Farmer's Market.