April 10th, 2016
I can't believe it has been five days since I last posted.  I realized it had been a few, but admittedly I've been running in so many different directions that I have lost track along the way.
This week also has a big buzz of busy- but I was able to get SO much accomplished last week, that once this week is done, the last couple of weeks before our trip should be a breeze.
I am still rocking the Whole 30 and feeling better than ever.   My sleep continues to not be as good as usual, but I believe that's part time-change and also partly me having so much energy- or as they call it in Whole 30 world-  "Tiger Blood".  I definitely have it.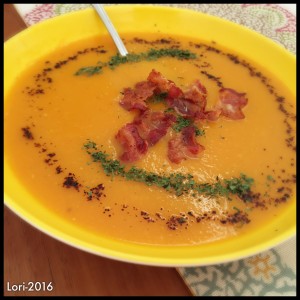 Today, despite having a day off from everything- I didn't really do a lot in preparation for food, and it showed in how I've eaten today-   I ate a lot of bacon, and grabbed a lot of nuts here and there throughout the day.  I had been so busy during the week that I decided to forego playing in the sunshine, and instead spent quite a few hours cleaning and getting things ready for the new week.  Since Marcel was having dinner at his moms-  I wasn't focused on myself- (and that wasn't smart) so I skipped breakfast and lunch (insert bacon and nuts here).    Dinner, I made a soup of roasted butternut squash, fresh ginger, coconut milk, carrots, a little mango, peppers and of course, bacon!   It sounds a little odd- but trust me when I say it was amazing.
The plus is- I have plenty of leftovers for tomorrow, and that will mean a quick and easy lunch for me-    I'll probably add some spinach to it to bump the nutrient factor.
Tuesday we're going to be gone all day-  I have a cheesecake delivery several hours from here-  but I am prepared.     The rest of the week is looking good, and as it looks- I'll be done on Thursday- as I decided to do 31 days.   I already know that I'll continue to follow the Whole 30 plan pretty closely until we head to our vacation, with the exception of having an event on Saturday, and maybe a few other little things here and there.  I like the way I feel, so why mess with that?   I don't believe I will.