March 27th, 2016
I forgot to post yesterday.  I had company for part of the day and I had been buzzing around most of the morning getting a cake finished before it was picked up.   I got all that done, talked to my family and before I knew it the day was over.
Yesterday's breakfast was the same thing I'd been having for a while-   and lunch was a banana, some nuts and a mandarin orange.    Not ideal, but it worked.    When dinner rolled around, I wasn't feeling overly hungry, so I made myself a salad with mixed greens, chicken breast, a few walnuts, tomato, olives, a mandarin orange and a little balsamic.  That was it-  It was delicious.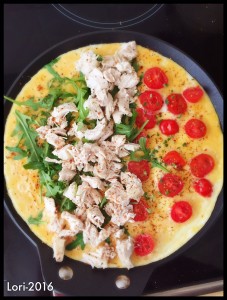 Energy wise- I've still been feeling great.   Today (Easter-  Happy Easter, y'all), was much of the same-   Today, I wanted to make something special for Easter breakfast, so that I would feel the festivities.
Marcel was working today- so I made this omelette for myself for brunch.    It is very simple-   eggs, chicken breast, arugula, tomatoes, chives and a few spices.  That's it.
It was delicious!
I made a roast today in the Crock-Pot with the intention of it being dinner, but I was not in the mood- so I had a salad, with half an apple, 1/4 avocado, plus mixed greens, chicken and a few walnuts.  I added a drizzle of olive oil and balsamic.  It hit the spot perfectly.    Tomorrow I'll plan to have leftover roast.
It is hard for me to believe that I'm a few days from being at the halfway point of this Whole 30.    I've been thinking a lot about how much energy it gives me, and also about how much more I know I would have if I were doing regular cardio (which I'm not).
I am very curious as the journey continues- but even more so, I'm excited to see how I will implement this into part of my lifestyle.
For me, it hasn't been hard-     I can imagine if you eat more processed foods, it would be harder.   The hardest part for me is making sure I am prepared for meals and have the right things on hand to eat.   That's it.   Oh, and making sure I stay on top of the water.
My face, which I reported breaking out horribly, still isn't 100% better.  It is much better than it was, but I still feel as though there is room for improvement there.    We'll see how that happens as the days continue to unfold.
If you asked me right now if I would do it again-   Without hesitation:  YES!
The journey continues…