March 22nd, 2016
My emotions have run the gamut today with everything happening in Brussels- and normally that would be a trigger for me to get crazy with food, but I have stayed well within the whole 30 plan.
Breakfast was a sweet potato breakfast casserole I made, which is very similar to what I've been eating- only in casserole form-  I mashed sweet potatoes, mixed eggs with them, added some almond butter, a little cinnamon and mace- and baked.   I divided it into 8 pieces to eat daily for the next 8 days-   warmed with a little coconut and a walnut sprinkled over the top-  delish!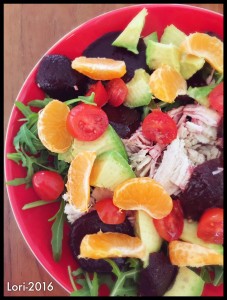 Lunch today was a salad I tossed together with items I had on hand.   I didn't really feel like eating, but as I wrote yesterday- I had forgotten to eat so I didn't want to have a repeat performance of that.
Arugula, roasted turkey breast, tomatoes, beets marinated in balsamic, a mandarin orange & avocado-  all drizzled with a little cold pressed high-quality olive oil.  It was delicious.
Dinner tonight was leftovers from yesterday, only I ate less broccoli and this time added some zucchini and eggplant that I'd roasted to the mix.  Plus rather than a half avocado, I had 1/4 at lunch and the other 1/4 with dinner.
My energy has still been good.  It has been on the up and down scale today with everything happening in the world, but I'm still amazed at how much better I feel than a week ago.     I was talking to mom about it last night and I understand that since I'm still in the early days of the Whole 30 month, that it will only get better.    If that's the case, then I will be recommending it to everyone I know.
One thing I am noticing-  because I do have SO much energy, it's been hard for me to get in bed at my normal time-   and I'm staying up way later than I should-   Tonight, I'm going to try to keep my distractions low so that I can maybe get a better nights sleep.
The journey continues!