March 21st, 2016
I ended up getting distracted with the energy I had yesterday and never got to write a post to share how I'm doing.  Yesterday, I had even more energy than I had the day before, so I was THRILLED.
My dinner yesterday, I think I made a Whole 30 mess up-    I bought some bacon before I planned to do Whole 30, but I did look to see if it had sugar and it didn't.   I bought in bulk, so I came home, divided the packaging and froze it all.    Well last night, my intent was to have zucchini with bacon, and turkey.    I chopped the bacon added mushrooms and started cooking it-  added zucchini and let it all sautee.   When I sat down to eat-   I immediately noticed that everything had a sweet flavor to it.    I cringed.   I wondered if the bacon had dextrose and I'd missed it-   It was four slices, and I did eat it- since I had nothing else prepared for dinner.   I'm not 'certain', it could just be that my taste buds are so sensitive and pick up everything, but I've decided no more of that bacon.    I have eaten it before and it didn't taste remotely sweet, so I'm not sure, but it's off the menu to be on the safe side.
Today-  I woke up feeling again with boundless energy-   Breakfast was the same as I've been having- the sweet potato, egg, coconut, and almond butter.
I'll admit, though, that I have had so much energy today that I was buzzing along taking care of projects left and right that I completely forgot lunch. OOps!    This afternoon, I had an energy crash and realized then that I'd not had nearly enough water, nor lunch.   I drank a liter of water and ate a mandarin orange and that helped.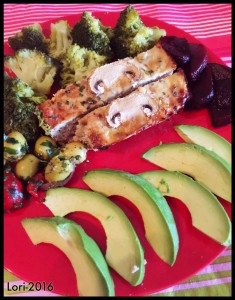 Dinner was a meat loaf that I made from pure ground turkey- (that the butcher ground for me, so nothing is added) some sage, eggs, mushrooms, onions, garlic and spices.  It was delicious-  I added some broccoli, avocado, beets and olives to the plate and it made my stomach happy.
Leftovers for tomorrow, which means I don't have to think about what to make that is Whole 30 compliant.
Life is good.  My moods are great, my energy is really good.    The journey continues.