March 19th, 2016
Well, I've made it to day five.  In fact, I can say I not only 'made it' to day five of Whole 30, but I rocked it thus far.   I'm taking things one day at a time and seeing what each day brings, but today brought me a WHOLE lot of happiness.   I'm generally a pretty happy person anyway, but the lack of energy I've been dealing with for the last while has left me pretty deflated.    This morning when I woke up, I felt pretty much like I feel every morning, but I didn't have that feeling of wanting to spend another hour in bed.   That was the first thing I noticed.
I got up and did my morning routine of drinking a huge glass of water-  followed by a green tea- and then a coffee.  Somewhere in there I had breakfast-  repeat performance of the last couple of days.    (As mom would say-  "Don't fix what isn't broke!")
Yesterday I talked about my overall feeling of tired and weakness, and the lack of energy.    I couldn't attribute it to the Whole 30 process, because I'd been feeling that way since I had the flu not so long ago.    Today I planned to get out, and get some things done, but even getting ready, I already felt much better than yesterday.   We went to the weekly Farmers type market- to get fresh fruits, veggies, nuts and olives.    It doesn't mean a lot of walking, but it does mean a little, so off we went.   I felt fine.   Not much dizziness, no achy arms, no general feeling of tiredness.
We came home- and after I put everything away, we went to visit our neighbors who had a little one about a month ago.  We've been planning to go over and take a gift, so today we did that- plus we were able to meet the little guy- who is absolutely adorable!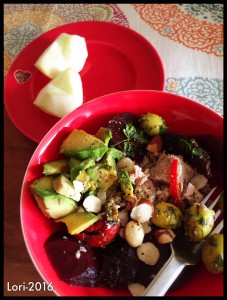 I still felt great, but I also knew I needed to eat something, and I didn't plan well on that front-    OOps… So I grabbed a little of this-and-that, and turned it into lunch.
In this case, this-and-that ended up being half of a Granny Smith apple, and a 'throw together' salad with a half can of tuna in water-  1/4 avocado, some beets  marinaded in Balsamic vinegar, some olives that I'd bought at the market, plus a couple of Brazil nuts.  Oh, and a drizzle of olive oil.
Since I really want to start 'doing' more in terms of exercise and building my stamina up again, we went out for a walk with the dog.   It wasn't that far-  probably 1/2 mile or so, but it was something, which is more than I've been doing as of late, simply because I didn't have the energy.
Since I ate a late lunch-  I wasn't overly hungry come dinner time.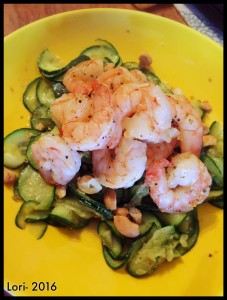 Again, because we were running here and there today, I didn't feel very prepared for dinner either, so I ran with what felt right for me at that moment, while remaining Whole 30 compliant.
What felt right-  was 12 shrimp that I cooked in a tiny bit of oil and seasoned with garlic, pepper and a few other spices, plus a zucchini that I sauteed and cooked with garlic and spices.   I drizzled with a tiny bit of olive oil- plus added a few cashews (4), because I wanted the extra flavor.     It was very simple, but also delicious.
So tonight I am celebrating the victory of having energy again.  It's not boundless energy, but it's MUCH more than I've been having, and my heart is doing a happy dance.
Tomorrow is a new day, and I know that each day in the beginning can vary soooo much, so I'm not expecting anything, but seeing what each new day brings.
Today, it brought energy-  tomorrow?  Who knows-   Stay tuned to see.