March 18th, 2016
In terms of the way I felt on the whole- today was a much better day. I feel 'regular' (ah-hem), again. I am still recovering from the excessive tired and weakness that I had from the flu bug, but I can't say that has anything at all to do with Whole 30- it's one of those little life hiccups I'm dealing with at the moment.
Today I felt hungry- which I haven't felt much of lately, so I guess that's a good sign. My breakfast was the same thing I've had the past couple of days- only today I had two eggs and less sweet potatoes to bump the protein factor.
I had a half apple as a snack at one point in the day, plus after dinner I wanted something as I hadn't felt like I'd eaten nearly enough (Leftovers from yesterday- approximately 1 cup of cooked cabbage and 4 ounces of pork tenderloin. So I chopped two dates, a small banana, tossed a tablespoon of peanut butter on top of it- and sprinkled it with coconut. It was good, and while Whole 30 compliant, not sure that it was something I should have eaten. I haven't been eating much fruit, so I wanted to add some in, and it did satisfy me. I've also not been eating many carbs in the evening, so this was more carbs than I've had in the evening since I started.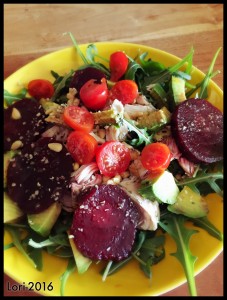 Lunch today- was a salad very similar to the one I made earlier in the week, only I added about 3 ounces of shredded chicken instead of tuna. Tomorrow I'll have tuna.
It was good, plus very satisfying.    In fact, I can tell the difference in how my taste buds are reacting to food.   I am really noticing the flavor more than ever.   I have always felt that I could really taste flavors in dishes-   but now that experience is magnified.  As a foodie- you won't hear me complaining one bit.
One thing I have noticed is that my face seems to be breaking out.  I assume that it's the toxins escaping my body, or that's my thoughts anyway.  Hopefully that will mean the clearing is coming up soon and my skin will be glowing healthily.    I've been drinking copious amounts of water, plus one or two coffees (today one) and two green chai teas.
I'm curious what tomorrow will bring-  Stay tuned.