March 17th, 2016
Day three-   Well, I guess this post should come with a disclaimer.   I promised to be honest with how I feel, and that is including some things that are considered TMI- (too much information), so if you don't want to hear it-  don't read.  haha
I don't know about you, but I go to the toilet regularly, like clockwork daily.   Yesterday, that didn't happen.   So if you don't know that feeling of feeling like your bloated and that general ugh feeling when you know you 'should' be going but can't, then I hope you never know it.  If you do know it-  then you know where I'm coming from.
So I woke up this morning feeling gross.   I didn't want to eat, but I  knew I had to.   So I did-   the sweet potato, egg thing from yesterday- I had it again today.    I drank a coffee, and then proceeded to do some household chores, (which exhausted me).    I am not sure if that's because of Whole 30, or more of  I'm still getting back my energy levels for when I had the flu, or maybe a combination of the two, but I was BEAT!
I decided to have another coffee- (black with added cocoa powder and compliant almond milk), and within the half hour-  my business had happened. haha  Hallelujah!    Ok-  enough about that part.
Apparently it's part of the process in the beginning, but not one that I liked.   Thankfully it was short lived.
Energywise, today I feel bad.   I will admit I thought more than once about eating something sweet, but I didn't.      I did, however, have a half apple and some peanut butter for lunch.   It probably wasn't enough, but it was all I felt like having, so I rolled with it.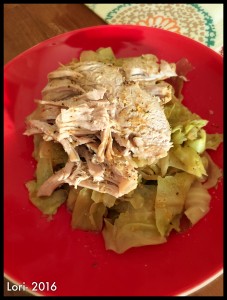 Dinner tonight was something I saw on Pinterest when searching for Whole 30 recipes. It looked like something we would eat anytime, not only while doing Whole 30. It's Kalua Pork with Cabbage from Slender Kitchen.   I will admit that I didn't measure the cabbage-   I bought two small heads and chopped them all and tossed them in, plus added a few spicier spices to give it a kick, but it is delicious.    Plus it's Saint Patrick's Day and made the perfect comfort-food Saint Patty's Day meal.       If you want a quick, delicious and easy meal, you should definitely give it a try.  You won't be sorry!  (I know my photo isn't exactly great, but I was hungry and decided to toss it all in my little bowl and eat!)
One thing I did do, since I knew I hadn't had enough healthy fats today- was I added a teaspoon of high-quality olive oil.   Yesterday I was thinking that I wouldn't want to constantly be mixing olive oil with herbs, so I took some of my favorite olive oil, I added some crushed black pepper, a little dried citrus peel, some garlic, and other spices, along with a little smoked Maldon flakes.    That way when I need it- I can give it a little stir and use it on salads, or as in this case on the cabbage and pork dish.    I love the added flavor.
Tomorrow is a new whole 30 day.    A friend said to me that there was no way they could do it-  as it's too restrictive.   Yes, it is.   No sugar coating it, but I am committed and I know that my body is going to thank me.  As far as if one can or can't do something-   I am a firm believer if we want something- we can achieve anything at all.     It isn't always 'easy', but then the most rewarding things are often the ones we had to work the hardest for.   It makes us appreciate them more.