March 16th, 2016
I'm partially through day two, and while I don't have any major things to report, I do feel a little more energized than I did yesterday. It is in part due to the sunshine, I'm sure. I did some cleaning and organizing this morning, and found myself feeling light-headed and weak. I can't attribute that to this plan, but I would imagine more to the fact that I'm still getting past the stomach bug I had over the weekend.
I'm also keeping coffee to a minimum. Today I've had only one cup, but I'm going to have one more & go enjoy it in the sunshine.
Since I baked several sweet potatoes yesterday (and proceeded to eat an entire one for brunch yesterday), I want to try to have the bulk of any carbs I have in the earlier part of the day. This morning, I added 1/3 of one of the sweet potatoes to a bowl, mashed it and warmed it. In the meantime- I scrambled one egg, then tossed it on top of the warmed sweet potato. I added a teaspoon of almond butter, a few slivers of coconut, and one walnut half, crumbled. That was it.
I will admit that I really didn't 'love' the sound of this whole combo I created, but I wanted more protein in my breakfast. Well, surprise of all surprises- eggs and sweet potatoes, (along with almond butter and coconut), make a great combination. I actually loved it! Guess what I'll be having again tomorrow?
Lunch this afternoon was another simple concoction. I love flavorful food, but I don't always want to over complicate it.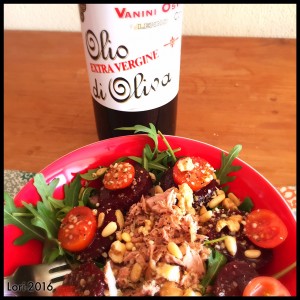 I took a handful of arugula, a half can of drained tuna in water, three grape tomatoes, a few beet slices (that I had already sliced and had marinating in balsamic in the fridge), two walnut halves, a sprinkle of pine nuts, a drizzle of very high quality Olive Oil (Vanini Osvoldo) that I brought back from Lenno, Italy, and a sprinkle of cracked- black pepper.   (See photo @ your right.)
It wasn't a 'huge' salad, but it was satisfying.  Since I also wanted to have fruit, I ate half of a Granny Smith apple- with a teaspoon peanut butter on each slice.     That was lunch.
Dinner tonight will be baked chicken breast, steamed (or roasted- as I haven't decided yet) broccoli- and a 1/4 avocado.
I know that no matter what- this method of eating is great for my body.    I know that it isn't for everyone.  It may not even be something I decide to follow past the 30 days, but I suspect that I'll follow something within the lines of…
Time will tell… in the meantime, it's time to soak up some Vitamin D in the form of sunshine, while enjoying an afternoon cup of java.