March 31st, 2016
I can't believe that it's almost FRIDAY!!   YAY!    Forget the fact that I'll need to actually get some work done this weekend, but rest assured there is going to be some fun (and I believe sunshine) tossed in there somewhere.   After all,    All work and no play.. well that's not me!
I can't believe that day 17 came and went with the blink of an eye.   I had a busy day-   but a good day.
Last night I was hungry-   really hungry- so I realized that it was probably due to not eating enough protein yesterday, so I set out to make sure that today was much different.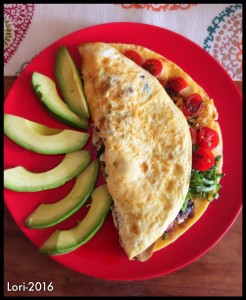 This morning, I had a late breakfast, so I made myself an 3 egg omelette with compliant bacon (check labels), a little arugula, tomato, mushrooms and chives.  I added some spices and had some avocado on the side.
It kept me full most of the day- so much so that when dinner rolled around, I wasn't hungry, but knew I needed to eat-   so I had a chicken breast wrapped in bacon, half an avocado a few olives, and then a small (3-4 inch) banana and two fresh clementines.
It amazes me at how much not having enough of what I need makes a difference in how I feel.   Tonight- I feel comfortably full and not wanting to go invade the walnut jar.
While out today- I picked up some chicken breasts that were on sale.  Rather than putting them in the freezer like usual, I immediately added spices to them and put them in a baking dish.   I'll toss some in the freezer, plus keep some in the fridge- making for a quick and easy addition to a salad or a lettuce wrap.
The journey continues and I continue to have an abundance of energy and feel great.   This afternoon I did have a little moment of feeling tired, but I think that was more because I was running around attempting to do five things at once more than anything else.
It's almost weekend.  How do you plan to spend yours?