March 28th, 2016
I made it to day 14, which is 'almost' the half way point.   (Insert me doing a happy dance here!)    My biggest thing when I made the decision to start the Whole 30 was that I wouldn't be able to have dairy, which is something I usually have daily.   I thought it would be really, really difficult.    I thought I may dream of dairy, but as is with most things-  the thoughts we conjure up in our heads tend to be far worse than the reality of things.
Do I miss dairy-   a little.   Mostly, when I'm out somewhere and I want a coffee, or as todays case was-  a Chai Tea latte from my favorite beach cafe.   Thankfully, they are very hipster- so while they didn't have compliant almond milk- they DID have compliant coconut milk-  SOLD!     Not all places have those ingredients on hand, which means I'll divert to something like fresh mint tea.   Don't get me wrong, I love fresh mint tea, but NOT when I am really wanting something with more substance.     I've also wanted to make Mexican food a couple of times and haven't because –  no cheese, no beans, no corn.   Yeah!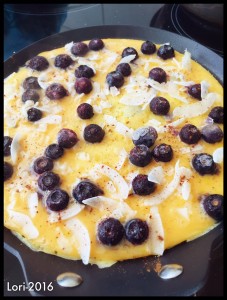 But with all that being said-  I feel good and the food I'm eating tastes amazing.  Today's lunch was based on a recipe that a friend sent me.  She got it from a blog that the name slips my memory at the moment- I felt bad about not sharing the original recipe- so here it is-from Stupid Easy Paleo.  I did my own thing with it-    I used 3 eggs-  I didn't have coconut aminos so I used smoked Maldon sea flakes- sprinkled a little cinnamon, added some coconut flakes (not sweetened), plus did a little lemon zest (from 1/3 lemon- you could use more if you wanted a more lemon flavor), and the blueberries.   The flavor was SO good!        I am grateful to my friend Lisa for sharing the recipe with me in the first place.   She did it as written and they loved it too!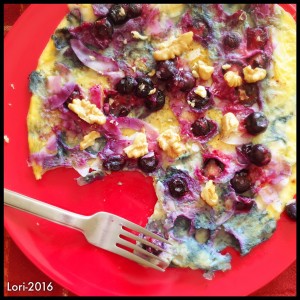 The photo on the left is when it was bubbling away in my favorite Le Creuset Les Forgees pan.    With that pan you can't go wrong.  It cooks everything perfect. No need for high temps-  in fact it suggests you keep it low.
The photo on your right, while not actually appealing looking-  was the finished product, after It had been flipped and then reflipped back onto my plate.   As you can see from the missing pieces, I'd already started devouring it.        I added a couple of crushed walnut halves on the top- because it seemed like the thing to do at the time.      Very filling and delicious.
Dinner tonight was a little more on the higher carb. side than I've had since starting Whole 30.  I tend to eat sweet potatoes for breakfast, and I've pretty much avoided white potatoes completely, until tonight.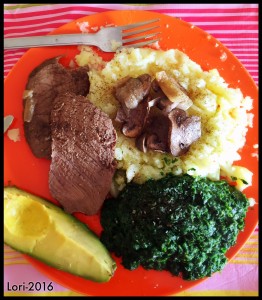 Tonight I wanted potatoes, so I had some-  I added salt and a drizzle of really good EVOO from Italy-  and along with that-  1/4 of an avocado, some roast beef, and spinach.     The photo is lacking, but the food was good.
Tomorrow, I'll make potatoes again, as I'm going to make a shepherds pie with a potato and parsnip mix-  along with sour kraut-  kale- and ground beef.  Not sure what the flavor will be like- but I'll keep you posted.
My energy continues to be good, plus I'm sleeping pretty well too.    I still need to stay focused on my hydration, as I'm still not consistent with getting enough water, but for the most part I do pretty well.
The fun continues!