March 25th, 2016
What a difference a day makes!  Yesterday, as I mentioned I was feeling a bit tired and run down.   Today, a complete 180.   I actually planned to spend the day resting, but when I woke up with so much energy, I decided to forget that idea and check some things off my to do list.
I had a late breakfast, and in total 3 cups of coffee today.    Breakfast was the usual I've been eating-   and since it was late- I wasn't hungry at lunch so I did my thing through lunch, stopping to drink some water.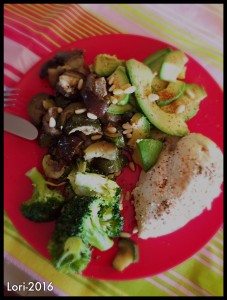 Dinner tonight was really good, but I couldn't eat it all-  I ended up giving Marcel 1/4 of my chicken, which was a large portion anyway.   I forced myself to finish the avocado and the veggies, but I knew I needed to.    A few hours later, I did have two tiny mandarin oranges, and that's it for me.
I have my fingers crossed that tomorrow brings as much energy-  it feels amazing.
Easter weekend is upon us-   Time for a bath and to chill!
How are you spending yours?
2 Responses to "Whole 30- Day 11"