March 29th, 2013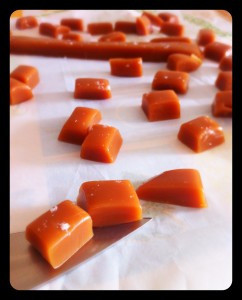 Any of you who may read this space regularly may be wondering where I've been- especially since talking about how I planned to be around more often.   Well, I've not only been busy- but I've been warp-speed busy for the past week- making none other than what the photo shows-  "Fleur de Sel" caramels.   I made them for an upcoming event, but when people got whiff of them- I had several people start emailing me asking if I was going to add them to my menu.    It wasn't my orignal intention, but they received so much buzz- that I thought 'why not'?      I want to give my customers what they want- and if it's 'Fleur de Sel' caramels they want- then that's what they'll get!
I'd just finished boiling, slicing and wrapping more than 800 pieces of the golden morsels when someone mailed to ask if it were possible for me to whip some up for their Easter celebration.   I had a LOT going on, but I do love my clients- so I said yes.   I made a few adjustments to my schedule and I made a B-Line to the kitchen and whipped up another batch. When Marcel got home- he so graciously agreed to get a box for me at the post office and once I got them wrapped and packged prettily- they were ready for delivery.
In addition to the caramels-  I baked a "death by chocolate" cake for a dear friend- plus had some serious soul refreshing time with her as she spent the night with us.   Lots of laughter and fun times- so good for the soul.