September 21st, 2016
Life continues forward at quite a busy pace (as I know it is for all of us).   We finished Whole 30 and that evening I went out and got some amazing sushi take out.    I rarely eat rice, in fact- sushi is my exception, or unless I'm at someone else's home and they make rice.   I don't even keep rice in the house- Quinoa yes, rice, nope.
We had some REALLY warm temperatures for our area last week to the point of I was watching the weather like a hawk, counting down until the daytime highs were around 70.    I was over the moon when that day finally arrived and I've been enjoying them ever since.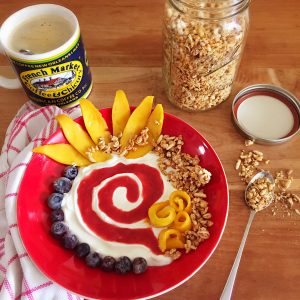 I guess it's 'safe' to say that we are kissing summer goodbye for 2016 and on the threshold of leaping into Fall.
Since some of the summer fruits are still amazing-  I made myself a bowl of Greek yogurt this morning with fresh fruit.  As you can see, I'm still playing with my food, but I believe starting the day with happy colors sets the tone for the entire day.    I couldn't eat this without smiling, so it definitely did it's job, in addition to nourishing my body.   Add a fresh cup of coffee and it was pure bliss.
It was also very simple to make-    Greek yogurt- strawberry puree that I made from fresh strawberries an did a reduction on the stoves, blueberries, mango and a little Kashi granola.    It was done and ready to eat in less than five minutes and that includes the peeling of the mango.
As the last of the summer fruit makes its way out to give way to Fall, I find myself thinking more and more about steel cut oats and other delicious Fall eats-    What about you?  What is your favorite Fall breakfast?