March 16th, 2016
People often ask: "What is your favorite season?"   My answer will likely vary depending on what time of the year you ask me.  Reason being-  I love each season for the unique beauty that it brings.  If you asked me today, my response would be a resounding, SPRING!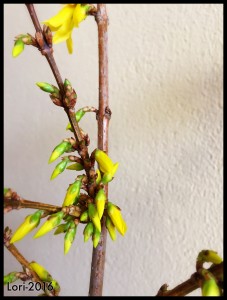 While from year-to-year some responses remain the same as to 'why', such as the hyacinth, daffodil and tulip fields in bloom, the 'slightly' warmer temperatures, and a new birth of all that seemed to hibernate during the winter months-  most years also have new reasons why it's my particular favorite.
Today I find myself feeling more excited and energized at the longer daylight hours, to see the blossoming branches of a flowering tree (which I always bring a few inside to brighten up the room and watch them bloom), the blue skies and sunshine (something we don't often have for days upon end).  I also know that even though I'm not used to the idea yet, the excitement builds of our trip 'home'.   We've never gone in the Spring, so it will be an experience for Marcel.   Crawfish (or crayfish to non-Southerners) are in season, plus the idea of spending time out at the islands with friends makes my heart sing with joy.   Sitting outside in the afternoon/evenings with family enjoying the beautiful weather.  There is so much to do and enjoy.
Spring is and has always been for me the season of hope & potential.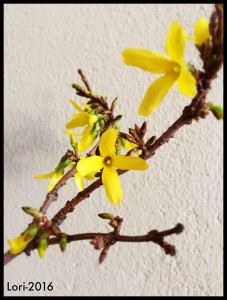 While the winter months of the New Year bring us the clean slate of possibility- seeing everything spring to life again, to grow & thrive-  that's a reminder to me that all things are possible.   If a forgotten seed which blew away in the wind can beat the odds and elements of the season and emerge as a sprout to thrive in the Spring, then when I look within myself, I know that what 'can be' goes far beyond what my mind can comprehend.    All it takes is intent, a desire to do the work, and the perseverance to see it through.
Today, my favorite season is Spring.    What is yours?
3 Responses to "What Spring Brings…"