March 13th, 2011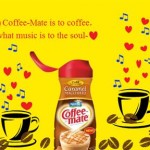 Over the past week or so, I've noticed that the sunshine and Spring flowers have not only given me more energy, but also inspired me to start exercising again and also to pull out the trusty Nikon and start taking pictures.   It wasn't that I ever 'stopped' taking pictures, but for varying reasons I'd felt less motivated and creative.   I guess it's part of the ebb and flow of life.
A few days ago, Coffee-Mate launched a new section on their website and Facebook called "Inspiration Cafe'" –  It's their way of promoting their new Cafe' collection through encouraging and inspiring others to create 'works of art' by showing what inspires them.   As a part of the Brew Crew (and someone who loves Coffee-Mate and Nestle' in general), I went over to check out the gallery and decided to create a little something of my own (resulting in the picture to your left). 
I had a great time creating this little piece and loved the paint program that they use so much that I went back and created even another.  Something tells me there will be more of those little coffee inspired pieces forthcoming, simply because I had a great time doing it and I felt inspired. (I highly recommend that you check it out and create your own 'work of art'.)
It has given me an opportunity to reflect on what inspires me-  I would love to be able to say a single person, place or thing inspires me, but there are many.  Sometimes, it's something as simple as the Inspiration Cafe', which has inspired me to pull out my 'real' paint brushes again to see where they take me. 
Last night, I found inspiration in the form of a bracelet that I put on to wear to the movies.   It was one I created several years ago, but it's now too big (due to weight loss) and I remembered in looking at it how much joy I found in creating pieces of jewelry.   That simple reminder was enough to inspire me to want to pull out the silver, beads and supplies to create something bright and colorful for Spring.
Last week, I noticed that my jeans felt a little tight in the behind- which was a reminder that I really need to get back to being true to my body and taking care of me.  That inspired me to start exercising again and start eating healthy- something I somewhat let fall to the wayside during the holidays while indulging in sugary treats.
Inspiration can come from many places, people and even gestures by others.  Witnessing random (or not so random) acts of kindness can spark inspiration within me (and others) to reach out and do something for someone, even if it's something as simple as giving a smile to a stranger or letting someone go in front of you in the grocery store.  
Inspiration can come in many forms and can be found all around us if we take a moment to notice.  
I'd love to know-  What inspires you?  After all- you never know when your inspiration will spark inspiration within another… and another…