May 20th, 2013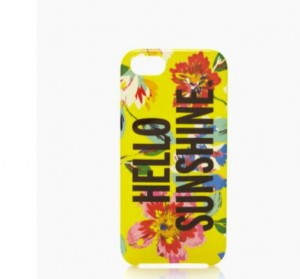 One day when I was perusing one of my favorite websites, I came across this cover for the iPhone 5.   At that particular moment, I didn't own the newest of the iPhone family, but it was almost time for me to renew my contract and there was no question in my mind as to whether I would go with anything other than my beloved iPhone.     I know-  there are some iPhone and Apple haters out there, which is all fine and good. I am NOT one of them!
It was love at first use back with the 3G- and I've been sold ever since.   I did have a slight hesistation as to whether to wait until the next generation came out- but I didn't anticipate a huge change, so I ended up going with the current model. (No one ever said I claimed to be patient.)
Now back to the photo at your right-   I fell in love with this cover and I admit, I ordered it before I had the phone.   I adored my other cover from Kate Spade- and I knew that even though the design had changed, I'd still love it-    One of my favorite things is that there is a little message on the inside of the cover- that only you see as you are putting the phone in its space.    My old cover said "Have Courage" and this one said "Live Colorfully", which is something I try to do in every aspect of life.  I guess those who have known me for any length of time- know that I've always been that way..   daring to be different and not really caring what the masses think.    I am who I am- I have good inentions- and love me or hate me-  I'm me.
To make my 'look' complete-  my best friend of more than half my life-   someone I consider famly and one of my deepest confidants.. made me background with the image (minus the text) and my name-     It is just the cutest thing EVER!
Yes- it makes me smile when I look at it-   a little piece of sunshine, regardless of what the skies may say.