September 1st, 2016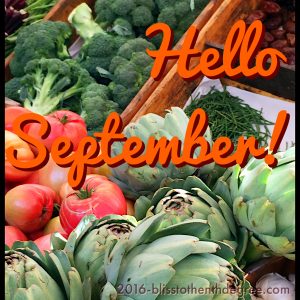 Can you believe it, we are 2/3 through this year!    Four more months and we will be ringing in a new year.   First though, lets not get ahead of ourselves as there is still a lot of fun to be had between now and then.
September-  the month where summer gently gives way into autumn-  the air shifts and a slight crispness can be felt.  I've been feeling it for several weeks, despite some very warm weather.  How about you?    It's also the month of my dad's birthday. I was blessed enough to be able to spend last year with him, so I can't complain much this year, although I'll miss spending some time with him on his special day.
The daylight hours are getting shorter, and life tends to slow a little.   I love this time of year-  what about you?