May 1st, 2014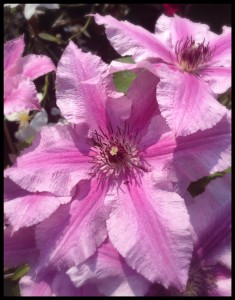 May first-    Hard to believe, but we are 31 days away from the middle of the year-    I'm still trying to figure out where the first part of the year has flown away to.    I guess the adage that 'time flies when you're having fun' definitely applies.
Thankfully, the past two weeks, and the 'quiet' time with me not using my arm as much, has definitely paid off.  I'm now at about 85% better, and while I still have to pay attention when my arm says 'take a breather',  I'm getting close to being 100%.   I've learned a lot, and I am having to think outside of the box in terms of how I do things, but it has been working, because I'm getting better.   (Insert me doing a little happy dance here.)
Our weather has continued to be amazing beyond imagination, and yesterday we spent part of the day at our locally owned garden center.  It's only opened 4 months out of the year, and when I walked in-   this is what greeted me.   Instant happiness, at least for me.
After doing shopping there, and a little grocery shopping- we spent the afternoon getting a few new flowers planted, with more to do in the near future.   Color me happy!
Now that my arm is doing a lot better- and I'm scheduling some computer time, I'll try to start writing more often.  I do have so much that I'd like to say, ideas swimming around in the grey matter, so expect to hear more from me.
In the meantime-  What's been going on with YOU?