April 1st, 2013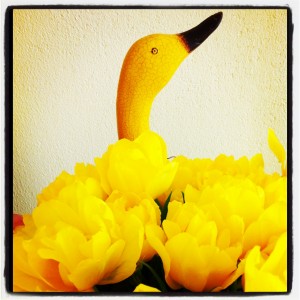 Ok-  I tried this a minute ago- Posted and then the post was blank.    Needless to say- I wasn't amused after typing an entry- to find it 'gone'.   It's also "April Fool's Day" but I'm not feeling the foolishness of that post disappearing.   Especially since it posted- but was an 'empty' post.
Let's try this again.
Remember me mentioning the 'mystery tulips' in my last post?   Well, as it turned out they are no longer a mystery-   They were from my mother-in-law and apparently she rang the doorbell, which never rang inside, so I didn't hear her.    When she didn't get me- she hung the tulips on the door in a bag and off she went.
In the photo to your right- you can see the tulips are in full bloom and looking gorgeous.    The duck-  one that Samantha gave me years ago after I mentioned seeing it in a magazine and liking it.  It makes me smile every time I look at it- and loved the idea of it 'hiding' amongst the tulips.    I shared it on Instagram and now here.
It reminds me of Spring- which is coming.   I feel it.  The sun is out- and it has been a gorgeous day.   Life is good!