February 3rd, 2017
TGIF!!  I am so excited it's weekend and I'm kicking it off by being 'home alone' tonight.   My favorite guy is working, but that means I can curl up on the sofa with my favorite TV shows from earlier in the week that I've missed.   Grey's, Nashville, How to Get Away with Murder & Scandal.   I love the time alone, plus we have a busy weekend on the horizon with friends.   Tomorrow night we'll spend the evening at friends, and Sunday we'll go out to dinner with some other friends.    Great times in the making!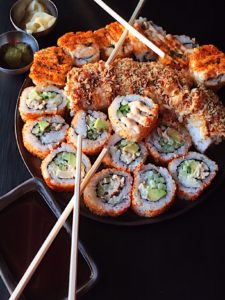 Yesterday was our 'lucky 13' anniversary and I was greeted not only with coffee in bed, but also some gorgeous roses, plus a beautiful card.  I'll admit that I didn't think he would remember, but he did, which made this girl smile big.   Since we both had work to get done yesterday and he was working last night- we decided to skip going out for dinner, and instead grabbed a few things of our own personal interest and had that.    Mine, was my occasional 'once a month' sushi treat.      I had a friend ask why I didn't make it myself, but I make pretty much everything and from scratch, so I think I'll continue to enjoy this freshly made once in a while treat.    Funny enough- I don't care for rice.  I don't buy it-  and while I'll eat it if I'm somewhere and someone has rice as part of the meal-   I never cook it, but I do love this sushi, including the rice.      It isn't my Gulf Coast favorites, but it will do.
How are you spending your weekend?   I know it's Super Bowl weekend, but I'm not a football fan, so no parties here.   I do like a good get together though, so maybe it's something to consider for next year.
In the meantime-  I'm ready to kick back, relax- and get a dose of some of my favorite actors and actresses.
Whatever you find yourself doing this weekend, ENJOY!