December 13th, 2012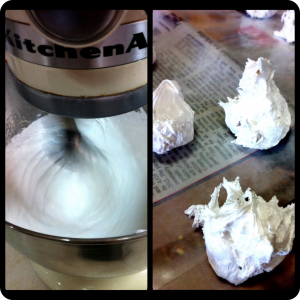 Ho Ho Ho!!   I'm feeling a little like Santa must feel this time of the year, because I've been busy baking and cooking up a storm- plus tis the season for giving- so I'm doing all that I can to make the Christmas season a little brighter for those I encounter.
I know- so many of us are hustling and bustling here and there- so don't really 'feel' the Christmas spirit, but boy-oh-boy I do!    I wish I could blow it into the wind and let it drizzle over everyone I see.  
Saturday I'm off for an all-day fun fest with one of my favorite people ever!   I can not WAIT-       Of course, Starbucks happens to be having a buy one get one free on all their holiday beverages this weekend, so that will be our FIRST stop!  YIPEE!!
Today I made this divinity-   My first time ever making divinity- although Lord knows I've eaten my share in this lifetime-      I was a little daunted by the cooking process, but since this is my favorite recipe in terms of flavor- I decided to try it and it worked!  YIPEE!!
Next up- (as soon as I finish this-)   Fleur de Sel caramels.  YUM YUM!!   
My favorite thing?  Being able to do this at home with mom!  
2 Responses to "Tis the Season"