November 27th, 2012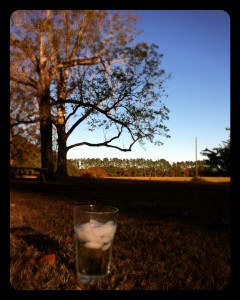 I can't believe that it has been more than a week since I last wrote-   Much has happened since that last entry and we are now safely home with family for the holiday season.
I took this photo last Saturday when I was sitting outside enjoying the sunshine and mild temps.  It wasn't long after I sat down that several of the barn cats became curious not only with me, but also with the glass of ice water- and promptly took over.    Needless to say, I didn't get the first drop out of that glass, but I gladly turned it over to them.   They enjoyed it- and I enjoyed watching them lap it up as though they were getting a great treat.
We had a great Thanksgiving-  small and cozy, but we have so much to be thankful for.    We've now officially been home for a week and have been enjoying each and every day, plus those who make the effort to spend time with us.  We are blessed.