November 29th, 2016
Santa is coming!    How many of you had your Christmas trees up before Thanksgiving?   As much as I would have liked to, we still haven't decided what type of tree we will have.    The fact that it will be a real Christmas tree is a no-brainer for us, but will we go for the larger one, or a smaller one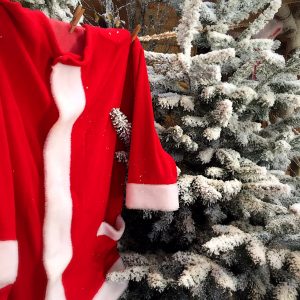 that will fit on a table top?  That remains to be seen.    If I had to choose today, it would definitely be a smaller version, simply because it is easier, not to mention it doesn't take up too much space, plus I don't have to be concerned with JJ and Mister M. having a 'cat fight' under the tree.   Decisions, decisions!
Much more important than the tree is the people we will be spending our Christmas with.     That is also still in the works, with plans unfolding, but I'm looking forward to having a time of fun and festivities with friends, whom I've adopted as my family here.
What about your favorite holiday traditions? Do you have any?    I'd love to hear about them.    When I was growing up we would always go look at Christmas lights.  My brother and I would be in our pj's early and off we would go as a family- in the car to drive through areas and look at the Christmas lights on display.  To this day- it's still one of my favorite traditions.    I actually think that this year we'll also be doing it with friends here.   Something else exciting to look forward to.
What do you look forward to during the holiday season?