July 6th, 2015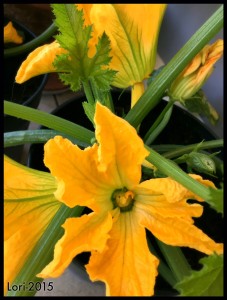 Last week, I walked outside to pick some herbs for a California chicken salad recipe that a friend gave me- and I was greeted with these gorgeous yellow zucchini blossoms.
The day before, I noticed a few blossoms as I went out to water them, and admire how well they were doing, but I wasn't anticipating that both plants would be in glorious, full bloom.
Even though I was in the midst of a busy and well planned out day-  I paused and enjoyed the beauty of the gift in front of me.
We often get so tied up in our own 'busy' that we fail to take the time to notice the things that are right in front of us-   Not only in nature, but in moments with family, friends and sometimes, even strangers.
In this day of being 'plugged-in' and 'instant-everything' – we tend to be losing our sense of being present in the moment and noticing things around us-     Give yourself a gift today-  Be present- notice your surroundings and the gifts around you.