August 3rd, 2015
Ok- It wasn't exactly homework, but instead my lovingly nurtured cherry tomato. Below is the run-down on how my beloved doggie ate my homework tomato.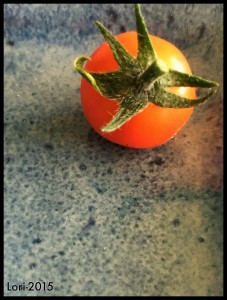 For months I've been nurturing (sometimes too much) my cherry tomato plant, turned tree.
I've waited in not-so-patient anticipation for the first tomato harvest. During the weekend, I found the first two had turned orange and excitedly waited to pick them. To savor the first tomatoes from my 'tree'.
. As I ran bath water for JJ's much needed bath- I ran outside to see if the beloved two tomatoes were ready. I was celebratory to find they were, and carefully removed them. Today, was the day I would enjoy my tomatoes.
Not wanting to forget the bath water- I put them on a piece of MS pottery that's on my coffee table, and off to the bathroom I went.
It was then I heard it. Marcel saying, 'We have a thief in the house."
I return to the living room to find a very excited JJ devouring the rest of the largest of the small red jewels.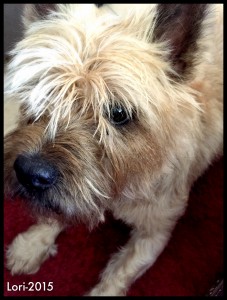 Since he wanted the second one (pictured), I can only assume they are tasty.
Gotta love a dog who loves his veggies and will even steal to get them.
Moral of the story- never pick tomatoes and leave them unattended when JJ is nearby.
Happy Monday y'all.