March 22nd, 2014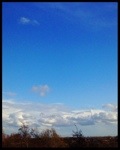 Some of you who know me, may know that I am on complete bed rest. It hasn't been ideal, even remotely so, but one of those necessities to keep from adding insult to injury, so-to-speak. I'm not used to having to sit still for so long, nor am I used to having to be totally dependent on someone else. Both of the aforementioned have been a learning experience for me.
I am now sporting two braces and a sling for my arm, and in spite my protests (which got me here in the first place)- I've learned that listening to my body is a necessity. My mind may think it knows better, but the true lesson is in realizing that our body gives us signs. The wisdom is in learning to listen and do what is best, even when it isn't ideal for what we may want to do.
This afternoon, I did take a little whole to sit in the sunshine. I knew theThis too shall pass.
2 Responses to "Sunny Days"