October 16th, 2016
It is no secret that I love all seasons, but if I was asked to choose an all time favorite, I believe it would be fall. Granted, if you ask me in the Spring, my response may be Spring, or if you asked me in Summer, and so on. I am a lover of all seasons for the uniqueness and their individuality, but there is something about Fall or Autumn, depending on what you prefer.
Often in Neverland, the weather this time of the year isn't pleasant. Truth is, it bothers many people, but not me. It is like everything else- it has it's plus and min points, but we have to take things as they come. Fortunately, the weather has been amazing. Sure, we've had a few grey days, but on the whole, thus far it's amazing. This morning- despite the crispness to the air that only Fall brings, summer also decided to show up and give us yet another kiss. It is although she wasn't quite finished with us yet for this year, so it's a beautiful 64 degrees, blue skies with not a cloud to be seen.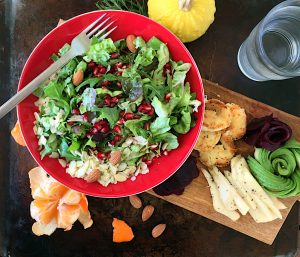 I put on my running shoes, grabbed JJ and went out for a long walk. Truth is, I could still be walking if Marcel hadn't had other ideas, or if JJ wouldn't have given out, or my stomach hadn't started grumbling, reminding me that I wasn't hungry when I woke up this morning and hadn't eaten.
Despite having a few projects I needed to do inside, I knew that I couldn't spend anymore time inside than necessary as those days will come soon enough. Right now, we've been given one of those rare Autumn days where it's pure weather perfection and I plan to enjoy it to the fullest. My rumbling stomach took me to the kitchen where I whipped up a Fall salad, filled with delicious seasonal gems, such as pomegranates, beets, pear, avocado, almonds, plus I sliced some fresh chevre I picked up at a market and crusted it with almond flour- then slowly let it toast in the pan, creating a delicious nutty crust and a delciously warm cheesy center. I topped the salad with a mixture of champagne and cranberry balsamic, plus a little Vanini Osvoldo EVOO that I picked up last fall in Lenno, Italy. Not only was the salad flavorful, being able to eat it Al Fresco this time of the year was a huge bonus.
Even now as I type this- I'm sitting outside. I can't bring myself to stay inside. I did dinner preps, grabbed the laptop, a cappuccino and a glass of water and here I sit- feeling the kiss of the wind in my hair, the sunshine on my shoulders,, and a wink from summer letting me know she is never far away.