August 19th, 2016
There is something about a good farmer's market that brings me joy. Local fruits and vegetables, providing great produce to cook along with each season. Right now, tomatoes are in abundance & if you have never tried a fresh from the vine tomato, you're missing out on something special. (Unless of course you hate tomatoes, then that's a horse of an entirely different color.)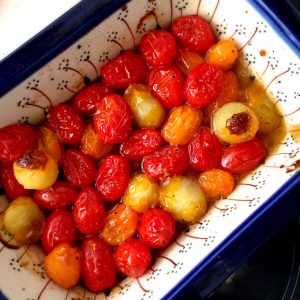 The only thing even better than a farm fresh summer tomato is roasted farm fresh tomatoes. They are SO easy to make and the depth of flavor that they add to pretty much everything is beyond comparison. They are great pureed in soups, eaten on salads, added to quiches or other dishes, or tossed on hot pasta. I keep mine in a glass jar in the fridge and we've been eating them on everything.
Plus the bonus is that tomatoes are extremely healthy, so you get a flavor win and a health win.   That's something to celebrate!
Want to know how easy they are to make?    Want no more— Here I used various cherry & grape tomatoes, but you can use ANY tomato you wish.
Oven Roasted Tomatoes
1 pound (or more) fresh tomatoes of any sort, or a mixed variety- washed
sea salt- to taste
pepper- to taste
garlic powder- to taste
italian herbs (optional) – to taste
regular olive oil or grapeseed oil  (I switch between the two- usually whichever I grab)  I often will add a little more of the 'good stuff' EVOO when they are done before I store them in the glass jar.     As far as amounts-  I  drizzle what looks good to me-  a few tablespoons to a 1/4 cup depending on how many tomatoes it is.
Preheat oven to 375-
Rinse tomatoes and add to baking dish
sprinkle with garlic powder, sea salt, fresh ground cracked black pepper (or whatever you prefer), italian herbs.
Stir with wooden spoon to incorporate everything evenly.
Put in middle of oven and bake until desired doneness.
As you can see I bake mine until they start to pop and then also begin to brown on top-   Depending on your oven that could be between 25-40 minutes.    I start checking mine at 20 and then again every 10 minutes after that.   I pull them from the oven when they are my personal desired doneness and then leave them on the counter to cool if I'm not using them for a specific dish at that moment.    Once cooled, I transfer them, juice and all to a glass container with an airtight lid.  They also freeze well for a quick pasta or soup dish.
If you make these tomatoes, I'd love to know how you used them.  I'm always looking for some new cooking inspiration.
Happy weekend!