June 10th, 2012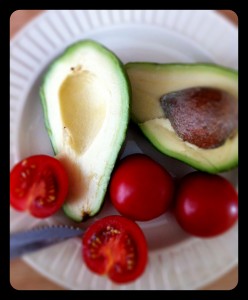 Stange things happening with this post-  I just wrote it, published it and when I viewed it- it was blank.    Things that make you go 'hmmmmm' on a Sunday evening.
Half of this avocado and the tomatoes were part of my dinner tonight.. add to that a plate full of steamed broccoli, a roasted chicken breast and I was one happy girl.
If you mix the perfect sunny day- along with the five mile walk we took today into the scheme of things-  life couldn't have been any better.     I love days like today- and fruits and vegetables from this time of the year.   So many flavors- and so many p0ssibilities.
What's your favorite 'summer' dish?