April 20th, 2013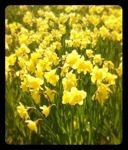 Spring has finally sprung here in the land of Never and along with that has been blue skies and sunshine.
I'm finding that in addition to my busy schedule as of late that I am bustling with energy which in turn has me attempting to cram more fun and living into each day.
I'm working on finding a balance to fit all the good stuff in. I've found that creating a schedule has really been helpful in other areas, so I am thinking I may need to start scheduling everything- that way if it has a time, then there is no reason not to get it done.
I've also heard a lot of great reviews on the FitBit and I've decided that I'm going to take the plunge and order one. I think it will really give me the accountability and the push that I need to get my fitness goals working for me again.
I've missed this space. More updates and news coming soon!!