January 21st, 2013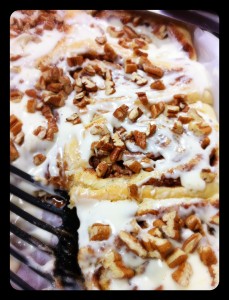 Not long after we arrived, someone made a mention of how good it would be to have a cinnamon roll-   namely, Cinnabon.    Let's face it, there are cinnamon rolls and then there are Cinnabon's.   Who doesn't love those decadent calorie-laden treats slathered in cream cheese frosting?
I told Marcel and diddy that I would see about finding a recipe that was similar in flavor to Cinnabon- so the quest began.  I found a recipe that I thought would be perfect with a few tweaks and as you would know- it required yeast.   Of course-  of all the baking I do-  playing with yeast isn't one of the things I have done.    
Time flew by- as it always does during vacations and the holiday season, and last week I finally decided to make them.    It was quite the process and I'll admit I had NO earthly idea what I was doing and so I just thought I'd try and see how it turned out.      Well- I'll admit- the result was surprising. 
Marcel had one fresh out of the oven and loved it.   I took some to Samantha's and she said they were just like Cinnabon.   I ended up eating one of the 15 or so that it made- and I gave some others away to friends.    They were gone in a few days-  Diddy and Marcel really loved having them for breakfast each morning and Marcel has already requested I make them when we get back and get settled.    I'll be happy to make them from time to time- but one thing is for sure- with all that butter and cream cheese- it won't be an everyday occurance.  
But sometimes we all need a splurge, right?