October 9th, 2010
 Today kicks off Soup Saturday and I promised that I'd share with y'all the recipe of the soup that I made today.   I am going to try to make a new soup each Saturday (and share the recipe), so if you have a tried and true recipe to share, please feel free to do so.
This weeks recipe is not something that is new to me.  It was new in terms of that I've never made it before, but I actually ate some last weekend when Bobbi and I visited our friend Kimmie.    Kimmie's husband was sweet enough to make the soup for us while we were out doing what us girls do best- shop.    I decided after tasting it that I was going to make it this week, and since I happened to think about Soup Saturday- I figured that would be the day. 
The recipe is fairly simple-
1 head cauliflower, chopped
2 carrots, chopped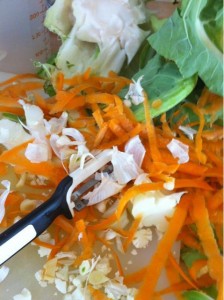 1 onion, chopped (I used leeks as you can see from the picture above) 
Fresh, chopped garlic (I used 4 little pieces)
Vegetable or Chicken broth
1 cup of milk (I used low-fat)
1 small can of whole kernel corn
grated cheese to taste
Add spices of your liking (I added Tony's Cajun Seasoning and a smidge of cayenne)
This is what the soup looks like before it starts cooking.   I will admit that even though the recipe didn't call for it-  what I did before hand was boil some salt pork and then allowed it to cool.   I picked the meat and tossed all the fat.   I also put the broth in the fridge, dipped off the grease and added the bacon broth to the vegetable stock while cooking.    It gave it a slightly smoky flavor. 
Once the vegetables had cooked and were tender, I used a hand blender (that I bought just for the occaison-  I'd been wanting one and this seemed like a great excuse) and I blended everything to smithereens.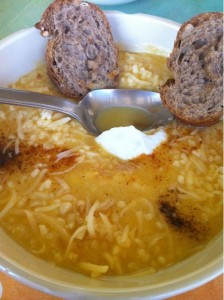 When that was done, I added the pieces of pork that I'd saved from yesterday, although you could technically crumble bacon over the top.   I added the milk to the soup once I'd blended it and then instead of adding the cheese to the soup, I sprinkled mine on top and added a dollop of fat-free Greek yogurt and a little Tony's and black pepper.
The only thing left to do after that is eat and enjoy.
2 Responses to "Soup Saturday- Cauliflower Soup"