September 30th, 2013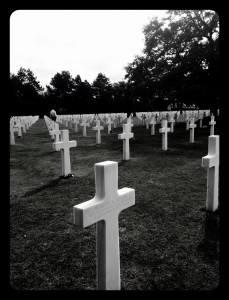 For as long as I can remember,  I've had it on my 'Bucket List' to someday see the American National Cemetery in Normandy, France.   I never had a real plan of when I would visit, but I knew that someday- I would see it.
When I was planning our travels earlier this year, I realized that when we were going to be in Calais, France to take the ferry over to England- that Normandy (Omaha Beach) was just about four hours away.     Even though I knew our travel schedule wouldn't allow for us to spend a lot of time there;  I talked to our travel companions and asked what they thought-    and the answer was a very enthusiastic YES!
A week ago yesterday, my desire became a reality.   My grandfather fought in WWII in France, and whether he was in Normandy is unclear to me.   Mom isn't sure as he didn't talk about the war often, and with grandma gone- it's a part of family history that is lost.
There really are NO words-   over 9,000 soldiers (and four civilians) are buried there.   All Americans.     I'm grateful to all of those who fought- and those who paid the ultimate sacrifice.    I believe Normandy, France  and the D-Day beaches are something that every American should see.
The welcome center is a beautiful account of everything that happened, and yet so moving beyond words.   I cried through the whole thing-  at one point inside the welcome center, I had to bite my lip to keep from bursting out into a case of the ugly cries.   I couldn't help it.   It was so powerful.
The men and women who are part of the Armed Services are the true heros of this world.    Take a moment to thank them.
When you look back on the history and think of those who have served and fought-   think about how things may have been different had they not.