July 3rd, 2013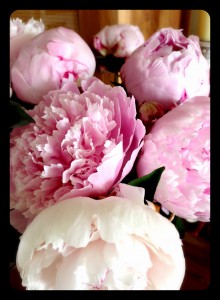 At the end of last week, I was out spending the day in the city with a good friend.  Since she lives in another city- we decided to meet up somewhere centrally located-  have some coffee, lunch, do a little shopping, and mostly just catch up face-to-face since we haven't seen each other in a while.
She had not been long returning from vacation, so it was great to catch up with her- hear all about her adventures in a country I've never been to.   It was a great day and we vowed to do it more often.    After all- an hour and a half isn't 'that' far to live from someone.
When I arrived home- Marcel had two bouquets of peonies waiting for me.    At the time they were tight balls of color, beautiful like that in their own right, but since then, they've exploded into the multi-petaled beauties that they are.     I took the photo you see to the right earlier today-   and every time I look at them I smile.
It's little things in life that make me smile-  and this is one of them.   A simple gesture from a stranger, practicing random acts of kindnes-   so many little 'things' that make life sweeter.
What makes you smile?