January 25th, 2016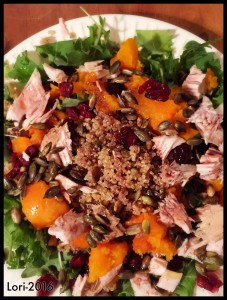 Over the weekend I was thrilled to find the baby kale that I love so much back in stock at my local market.     It's one of my favorite greens, and the plus being that they're so healthy.   A win-win situation any way you slice it.
Not too long ago I also happened to be perusing Pinterest and I came across a kale and butternut squash combo which sounded delicious.    I happened to have some butternut squash that I'd picked up at a local farm towards the end of the year, and Saturday I sliced it in half, discarded the seeds and roasted it in the oven until it was done.
In the meantime- I whipped up some quinoa to cook, but thought a touch of cinnamon in the water that I was going to cook them in would be a great combination beside the butternut squash.    (Boy was I ever right on that one.)
For the salad-  I added two handfuls of baby kale, a handful of arugula, about a half cup of quinoa (you could add as much or as little as you'd like),   some cubed, roasted butternut squash.      I toasted some pumpkin seeds, sprinkled them on top-  and added a slice of roasted turkey breast I'd cooked in the crockpot.  I also added a handful of dried cranberries.    The dressing wasn't really a 'dressing' per say-  but a drizzle of Vanini Osvoldo Olive Oil that I picked up when I was in Lenno, Italy this past fall,   plus a drizzle of champagne vinegar and cranberry balsamic.   I added crushed black pepper to taste.
It was easy to prepare, and really out of this world good, plus filling AND healthy.      I was celebrating the fact that I actually have leftovers, because it's the best salad I've had in a while.
What's your favorite salad?