January 5th, 2016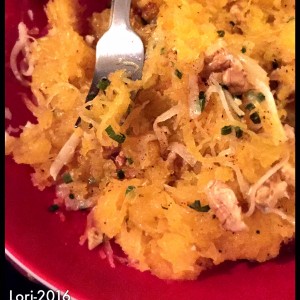 Yesterday I remembered that I still had two spaghetti squash that I'd picked up a while back, but still hadn't cooked.  I wasn't exactly sure what I would do with it, but I knew since I was feeling a little under the weather, that it would be something simple.
I started with roasting the squash-  which was as easy as turning the oven on to 350- cutting the spaghetti squash in half-   removing the seeds from the middle, leaving on the fleshy squash behind.    I turned it flesh side up in a roasting dish-   added a little garlic and into the oven it went.     I'd love to be able to tell you that I timed the exact process, but I'd be lying.   I did check it after about 40 minutes-   decided it could use a little more time-  and left it in 20 or so more minutes, again checking it with a fork for its 'shredability'.   Once I felt it was the doneness that I wanted (ovens vary- so check to see what works best for you and your oven), I proceeded to use a fork and shred it out of the skin into a bowl.
I added some garlic, chives, a little chipotle chili powder, a touch of salt-  then shredded approximately 1/4 up Asagio cheese on top that I brought back from our trip to Italy-     I drizzled the top with about a 1/2 teaspoon of my latest flavor obsession-   Black Truffle infused olive oil and a few chopped walnut halves for the crunch.
It was simple, but the flavor was out of this world.    Black truffle anything takes everything to the next flavor level of decadence.    Lucky for me, I have the other half of the squash left, so leftovers are the order of the day.   You won't hear me complaining.    This is a delicious and healthy comfort-food meal and with our cold weather- it's perfect.
2 Responses to "Simple Comforts- Spaghetti Squash with Black Truffle Oil"