March 19th, 2016
Since I was feeling so energized today- I wanted to cash in on that and take some time to get out and enjoy some walking.   I know 'not' exercising has only fed into me perpetuating no energy, but it was bad enough that I really couldn't seem to push through and force myself, so I didn't beat myself up, rather showed myself compassion and love- allowing me to give my body what it needed right then.
Now it seems to be business as usual and that makes me HAPPY!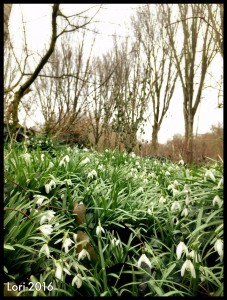 It was a grey and cold day, but yet it felt so good to be out and about.    JJ even seems happier now that the daylight hours are longer.   I loved walking along and seeing signs of spring everywhere I looked.
I spotted these little flowers growing in a huge cluster in the middle of a wooded area, so I trekked off the beaten path and grabbed a few snaps of them.   Granted, they aren't the best photos I've ever taken, but seeing nature come to life again brings me a lot of joy, which makes it all worth it in my eyes.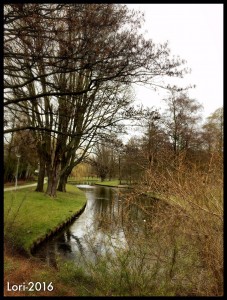 Seeing everything come to life again after Winter reminds me to pause and be even more observant of my surroundings, to see what gifts nature is giving us all to be discovered.     It will happen whether I (or you) notice, but it never ceases to amaze me the tiny gifts that surround us each and every day.
What have you taken the time to notice today?  If you can't think of anything, it's not too late to take a moment to pause for a moment, focus on the sounds around you, and really look.    What do you see?   I'm certain there's a gift from nature waiting to be discovered.