September 25th, 2011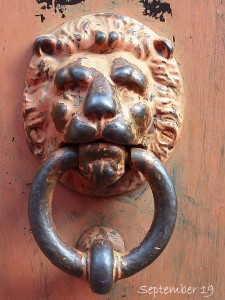 September 19-
Something I've noticed a lot of while in Germany and Austria was the presence of  lions.  It seemed like everywhere I looked there lions-  door knobs, door knockers, statudes, built into the wood-work, etc.    I'm not sure of the actual significance and I haven't had the opportunity to Google it, but I will admit that being a cat lover- the Lion has always been my favorite 'cat'.   It also reminds me of courage (something I tend to be lacking in some areas as of  late), which probably comes from the Wizard of Oz and Cowardly Lion days.   
I actually took quite a few pictures of various lions while we were away- including the one you see here.   You will probably be able to tell from this week's pictures that I've been fascinated with fixtures this week.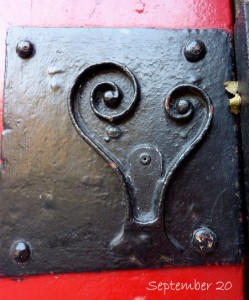 September 20-
We left Germany- heading back across the border on Tuesday, so we spent most of the day driving.  It was also diddy's birthday- so what better thing to find was yet another fixture but with bright red and dark iron and somewhat in the shape of a heart.    (at least it looks like a heart to me).
I often wonder if there is a story behind these ornate door fixtures and what they meant in that time period.   To me- this one means love-  and I definitely love my family and feel so blessed to be able to spend an extended vacation with them traveling through Europe.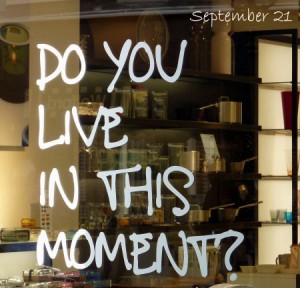 September 21-
Anyone who knows me, knows how much I love quotations- so when I saw this on a store window I got particularly excited.
I am not one who believes in coincidence and while I do try my best to live in the moment- I sometime get bogged down with all the things on my 'to do' list- instead of just prioritizing and going through when I can.    Lately it has kept me from enjoying some special moments to the fullest- so I considered it a reminder.   One that I'm grateful for.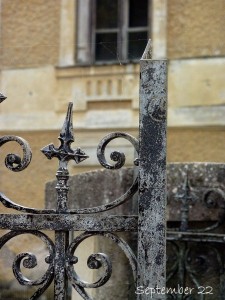 September 22-
More of my current fascination with fixtures.    I was surrounded with beauty on the day that I took this picture- but yet the one thing I seemed to notice was something that everyone else seemed to walk past- the iron fence. 
I love the detail of it- and the contrast between the old iron and the  color of the building behind it.    Little things of beauty-  they are all around.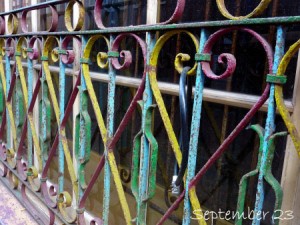 September 23-
It is no secret that I love color- so when I came across this in a Haarlem storefront window- I couldn't help but smile.   I actually took quite a few shots, from many different angles, and this ended up being my favorite.
I can't help but wonder if someone painted it since it has aged, or if it was always brightly colored.  Something tells me that it was painted that way in the last few years- but I guess I'll never really know.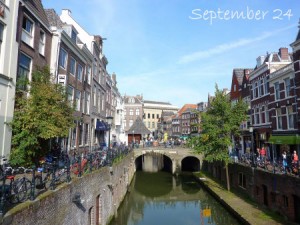 September 24-
Yesterday we found ourselves in the city of  Utrecht.   We met up with my dear friend Kati- walked around and explored the city and had a little lunch.   The day couldn't have been more perfect.
Obviously we weren't the only ones who felt that way- since the city seemed to be bustling yesterday- and we even came across several couples who were saying their "I Do's" yesterday.
This is one of the many shots I took yesterday- but a typical canal scene in the beautiful city.   From there- we went to a castle and spent the rest of the afternoon.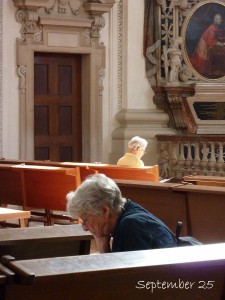 September 25-
I actually didn't take this shot today- I took it when we were in Salzburg, but I found it more fitting for today than the others I've taken today.   After all it is Sunday- and these ladies were in the house of the Lord.    I was taking the shot of the lady in the foreground and didn't notice the second one until I actually uploaded the pictures.      It makes me smile- and yet I almost feel guilty for taking it- as if I were intruding on a moment.
3 Responses to "September 19-25 (Photo 365)"