January 5th, 2014
I noticed the last couple of days of 2013, that there were quite a few people who were happy to see the year come to an end.    While it was a year that produced quite a few challenges for me personally, it was also one that gave me quite a few gifts of life lessons.   I try to be open to the lesson in all things, so rather than seeing certain things as nothing but a challenge; I was able to be grateful for the gift.
Marcel and I decided the best way for us to end the year, and begin the new one was to have a quiet evening at home.    The weeks leading up to New Year's Eve was so busy, that we were both thrilled to have some down time.  We kept dinner simple- and had a toast at midnight, with a promise to live our best lives, and to learn from whatever life presented us- both good and not-so-good.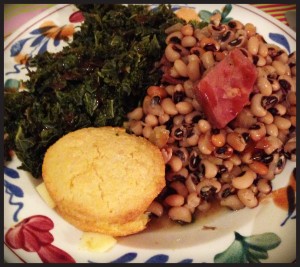 New Year's Day- found us enjoying the typical "Southern" fare-    Greens, Black-Eyed-Peas with ham, and of course, a corn bread muffin.   All so good, and the perfect way to kick off twenty-fourteen, with something healthy, after the indulgent holiday season.
A new day- a clean slate to fill with wonderful moments, that will add up to some great memories.   2014 is our year to sparkle and shine.
What about yours?