March 17th, 2010
I know I promised y'all that I'd share the mini quiche recipe and I will definitely do that, but as I was browsing through my email this morning, I came across this great recipe that I really wanted to share. Even though I wouldn't consider it one of those natural fat burner recipes that I hear about from time to time, I did think that it looked like something that Marcel and I would love. I'm already coming up with ideas to make it healthier, which would probably mean omiting the best part (the bacon), but I bet turkey bacon would work just as well, or I bet shredded chicken breast would be delish.
Anyway, without further babbling from me: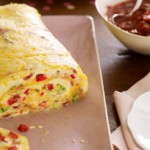 Bacon Omelet Roll With Salsa
The picture isn't mine, I borrowed it from the Kraft website, which is where I got the recipe from. Let me know if you try it. I think I may make it this coming weekend for a special treat for Marcel. When I do, I'll take my own pictures, but in the meantime, I hope Kraft doesn't mind that I borrowed theirs. Doesn't this look delicious? Plus I think it's pretty!
8 eggs
1 cup milk
1/3 cup flour
1 red pepper, finely chopped
8 slices bacon, cooked, crumbled
3 green onions, finely chopped
1 tsp. dried oregano leaves, crushed
1 cup low-fat Shredded Sharp Cheddar Cheese
1 cup Thick 'N Chunky Salsa, warmed
HEAT oven to 350ºF.
LINE 15x10x1-inch pan with parchment paper, with ends extending over shortest sides of pan. Spray with cooking spray.
BEAT eggs, milk and flour in large bowl with whisk until well blended. Stir in next 4 ingredients. Pour into prepared pan. Bake 14 to 16 min. or until edges are almost set. Top with cheese; bake 2 min. or until melted.
ROLL up omelet immediately, starting at one short end and peeling off paper as omelet is rolled. Place on platter; cut into slices. Serve with salsa.
3 Responses to "Recipe- Bacon Omelet Roll With Salsa"