November 12th, 2013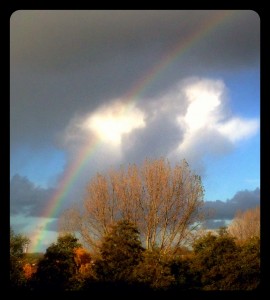 On Sunday, I woke up to gorgeous blue skies and sunshine.    The temps were a bit on the cool side, but I knew that part of my day would have to be spent outside.
Marcel was working and my agenda was free for the day.   I grabbed a pen, some cards and a huge cup of coffee, and out the door I went.   Before I started writing,  I paused, admired the sky, and listened to the sound of the birds singing their own little song.   It was the perfect fall day.
It wasn't long after, and it started raining.   Of course, I knew that sunshine + rain = rainbows, so I immediately started looking. It didn't take me long to find one in all its glory.   It was gorgeous.   I watched it until it faded off into nothing, but my smile lasted much longer.
It reminded me of how it's the smallest things that can often have the most impact.    A rainbow or even a smile.