June 5th, 2011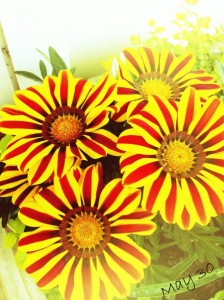 May 30-
Hard to believe that another week has passed and here we are almost through the first week in June.   This was another busy week and I didn't pull my camera out once- which is odd for me.   I'm grateful for the trusty "eye" ( iPhone) camera and all the great Apps. that I've been playing with as of late.   It has not only made things easy with getting the photo of the day- but also been a little fun seeing what kind of look I can come up with- within the Apps. themselves.
These flowers are right outside my front door-  They are planted beside the same variety only in orange, with some greenery planted beside them.    I love these flowers-  I usually buy them every year- but in the solid color variety.  I've decided I'm an even bigger fan of the striped variety.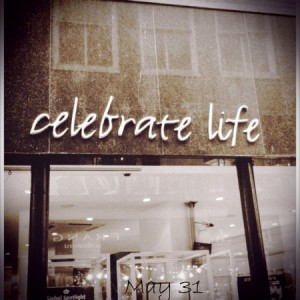 May 31-
May 31st had me spending time with my friend Bobbi, her mom April (who is also my friend) and Bobbi's adorable little ones- Luca and Natalie.   We went into the 'big city' for lunch and a little shopping (and of course a trip to Starbucks) and while walking along- I came across this sign above a store.   Since it's something that I'm really trying to focus on more these days- and something that I think we ALL need a reminder of from time-to-time.     Life-   We are given one and it's up to us to make the most of each and every day-   We aren't promised tomorrow and yesterday can't be changed (no matter how much time we may spend looking behind us), so NOW is the time for everything!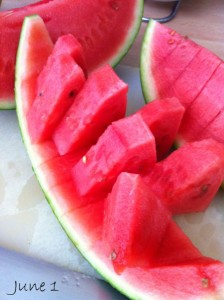 June 1-
There is nothing that I love more in the summer than fresh fruit.  I love it year round- but there is something about summer fruits that make my mouth water just thinking about them.  
Marcel and I picked up a few fresh pineapples- some honeydew melon and the watermelon you see to your right.   I cut them all at the same time- tossed them in a HUGE bowl together and we've been eating it daily.   In fact, I just finished the last of the fruit bowl for lunch.   
Marcel isn't a huge fan of watermelon- which meant more for me.  I certainly don't mind one bit!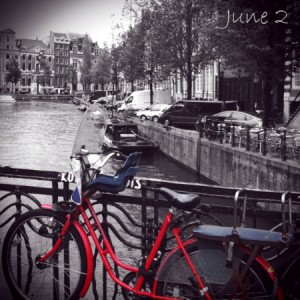 June 2-
This is another shot that has been mostly done in various Apps. for the 'eye'.    I took the original photo with the iPhone camera- then ran it through Photoshop Express to crop out the other bikes in the picture- and then ran it through Color Spash to remove the color of the photo and then 'add back' some of the color on the bike.    Lastly- I ran it through Camera Bag to give it that 'Holga" look .   On the whole- I like the way it turned out.  It was a little time consuming to do- but I enjoyed it and found it very relaxing.   Any guesses as to which city this is?
When I see the picture- it makes me think of that Queen song that says-  "I want to ride my bicycle- I want to ride my bike-   I want to ride my bicycle- I want to ride it where I like."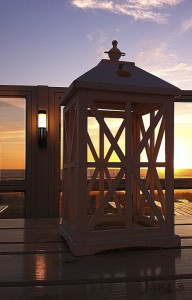 June 3-
 Today was my favorite (and only) brothers 42nd birthday.   It was also Friday and my big plan was to spend some time relaxing in the hammock with the Kindle in hand.   The weather was perfect, so I figured there wasn't a better way to spend the evening since I couldn't be with my family to celebrate my brother's special day. 
Not long before I was about to reheat the leftovers from the night before – Desere sent me a message and asked if I wanted to go to the beach with her for coffee.   I knew this meant going to our favorite beach cafe- so my answer was obviously yes.  After all-  the beach, good company and coffee-  What else could a girl want- aside from maybe winning the lottery?  
It was great to relax, but the wind was crazy at the beach and blowing sand everywhere-  I was cleaning sand out of my ears all evening.     We finally decided that in spite of how much we loved Aloha- that we would head to the other end of the beach (where I usually walk to- although we weren't walking) and see what things were like there.      Surprisingly  3 miles further down the beach- things were much different.    We sat there for a while- and as we were leaving- I decided to take this shot-  I liked the lantern and really wanted to move it around a bit- but didn't want to get in trouble, so didn't push my luck.  I was happy with how it turned out- and it was a highly relaxing evening with a dear friend.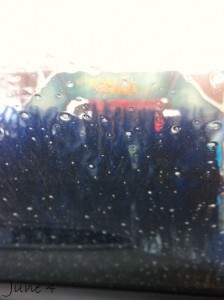 June 4-
Marcel had parked our car somewhere that apparently was in the path of a LOT of birdie waste- so when we went out to the car yesterday morning- our car had quite a bit of poop on it.  We were heading out anyway- so we stopped in at the local indoor car wash to get rid of all the poo before it started eroding into the clear coat on our car. 
I'm not a fan of those 'drive-through' car washes.  This one is monitored, so it isn't too bad- but once upon a time- I got stuck in one of those gas station ones in the middle of the night-  Thankfully I wasn't alone- but to this day- they make me nervous.   We made it through though- and the car looked great- so all was well.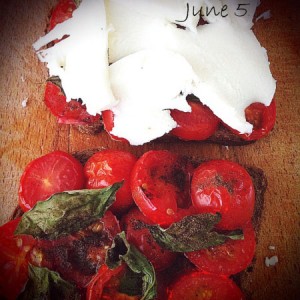 June 5-
This is today's lunch and probably my favorite sandwich ever.   In case you're wondering about it-  I'll tell you.   
The bread is whole-grain with roasted sunflower seeds-   I then add sliced tomatoes with some black pepper and toss it in the oven.    Most of the time I add pesto to the top of the sandwich (which I eat open-faced) but I was out, so I picked some fresh basil from my little herb garden outside.     Once I pulled the sandwiches out of the oven- I added fresh mozzarella and then put them back in the oven long enough for the mozzarella to melt.   
I then pull them out and enjoy!   If you haven't tried it and like tomatoes, pesto and fresh mozzarella-  strongly suggest you try it.
That's it for this week-   In spite of not using my 'real' camera much the last couple of weeks- I still enjoy taking shots of things that make up part of my day-   It's somewhat of  'my life in pictures'.  
Hope you all have a great week and remember-  Celebrate Life!
One Response to "Photo 365 (May 30-June 5)"