May 30th, 2011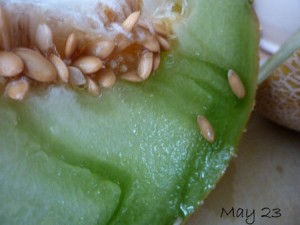 May 23-
This past week was extremely busy and somewhat crazy at times- so Monday's shot was the only one that I got with a camera other than the 'eye' (iPhone).  The thing that struck me when I was cutting the melon is how some of  the seeds had dug a path through the melon itself as though they were trying to escape.   I found it so fascinating that I decided to share.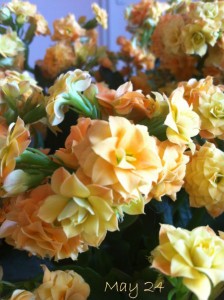 May 24-
I love these flowers- and right now the name of them slips my mind.   I have seen them in a multitude of colors- including white, this pale peach color, and even pink. 
Something about them reminds me of little roses, although I don't find that they really have a rosy scent-or much scent at all for that matter.    Still, they're pretty and caught my eye.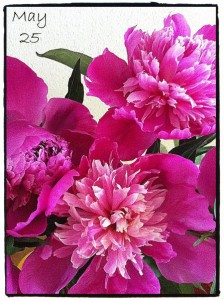 May 25-
Desere brought me some peonies- a diferent variety than those Marcel had bought for me, so when they bloomed, I couldn't help but admire how beautiful they were and want to take a picture of them.   They've since lost their luster- but they were so gorgeous for a few days- and since I mentioned thing smelling 'rosy' – I have to say that these have a distinct rose smell to them- in spite of not being roses or having thorns.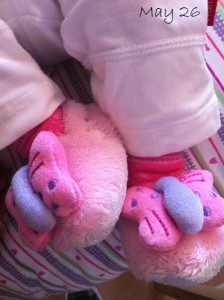 May 26-
On Thursday I went to visit my friend Bobbi, her mom and a few other friends.  We all gathered at Bobbi's home and she created a delicious lunch for us, which included salad and a Thai soup that I really loved.   These feet- are of her precious little one- who turned one month old yesterday on the 30th.    I thought those little slippers are about the cutest I've ever seen, and just had to share them.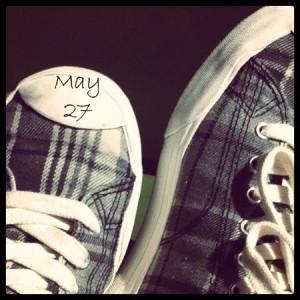 May 27-
This is a pair of my favorite sneakers-   I don't know what is is, but I love funky, cool sneakers and this is a pair that I recently started wearing.  I bought them in the winter- but didn't wear them much, but I just love them.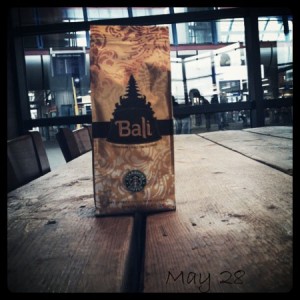 May 28-
When I found out that my uncle passed away on Saturday, I had to get of the house.   My original plan was to to spend the day at home, but when I got the bad news- the only thing I could think of was 'get away'.    
We headed to one of my favorite stores- but I didn't realize they closed at 3 on Saturday's, so instead we headed to Starbucks for a cup of java.    It is there that I found the new Bali blend that I fell in love with.    This is the bag of beans that I purchased and needless to say- I will be buying more.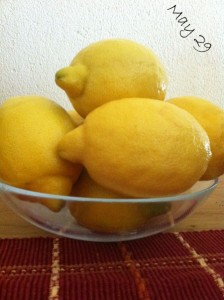 May 29-
Yesterday was a really difficult day for me and the one thing I knew that would keep my mind off of the funeral and everything else going on was to cook.  The lemons to your right ended up becoming fresh lemon curd (that is fantastic) and lemon cupcakes-   The final product was lemon meringue cupcakes that I have fallen in love with.   I also made Oreo cupcakes as well and needless to say- there has been a cupcake feast going on.  I've been giving cupcakes away left and right- and still have LOTS.     Baking is definitely good for the soul.
3 Responses to "Photo 365 – May 23- May 29"