May 31st, 2015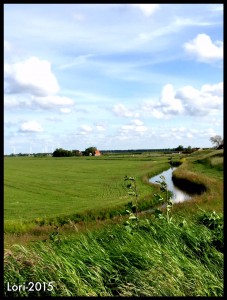 Yesterday was one of those days-   You know the ones-   where everything you've been planning leads up to the 'day' where all the preparation comes into play.   One of those days that when you realize that everything comes together and plays out exactly how it should- that it couldn't have been any better if you'd planned it that way.
I'm grateful for all days-   because there is something to be learned in all of them.   But yesterday-  was a 'knock it out of the park' kind of day-  where every little thing went fantastic and ended in exhilarating exhaustion.     It was a beautiful gift- and I took several times in the midst of the day to make sure that I enjoyed and appreciated it for just that-  a gift.
Last night- Marcel and I had dinner to celebrate my success-   which was my first major catering event-     We had a wonderful dinner-  and it ended with a drive through the countryside (see photo right) and a note from the beautiful person who hired me- saying that they loved everything and that people were still talking about how good the food was.
There is beauty happening all around me-    and I'm celebrating in the successes of those I love-    a close friend just received a huge promotion at work-  another is doing the Alpe de Huze this coming week-  another messaged me this morning that she'd had her baby- a little boy-   my adorable nephew finished the year with a perfect GPA-   my BFF's parents are celebrating their 50th wedding anniversary next week-   my own parents will be doing the same in less than two weeks…  and the list goes on.
Me-  I'm smiling at all the possibilities all around-   the joy-  the love-  the beauty of life-