June 27th, 2013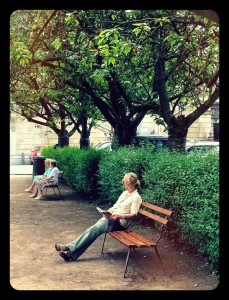 I was out of town last week- and while walking around on a gorgeous day we came across this park where a woman was sitting on a bench reading.    I couldn't help but smile, plus I also couldn't help taking a quick shot of her.    One bench further, two women, elderly, chatting happily with each other.
I couldn't help but wonder if the women were sisters or maybe best friends.   I love the idea of thinking that they were childhood friends and had grown old together still sharing life experiences and secrets- again, another smile came across my face.
One of my favorite things to do is people watch, but I always wonder what their lives are like and what stories they would have to tell if we actually sat down and had a chat.
I love the fine threads the weave us all together like a beautiful tapestry.