November 15th, 2009
I just sat down to type a few words and I notice that the sun is trying to break through the clouds and grace us with its prescence. There isn't a hint of blue skies, but I know it's there, somewhere, over the rainbow or something like that.
This morning has been a quiet one and for that I'm grateful. JJ and I went on a hour long walk this morning where he met and socialized with some of the dogs, both large and small in the neighborhood. Right now, he's sleeping and so is Mister M. who is curled up beside me on the couch. I would like a nap, but I have a few things that I really would like to get done today, so I probably won't indulge, however tempted I may be.
Instead, I'll share a cartoon that my friend Michelle sent me via email yesterday. It's one of several, but this one is very much true to how I've felt lately and it made me smile. What has brought a smile to your face today??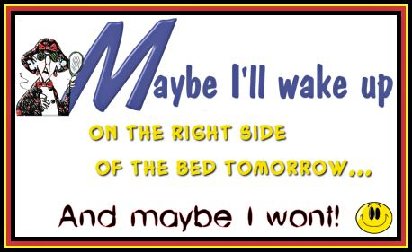 4 Responses to "Peaceful Sunday"