May 30th, 2013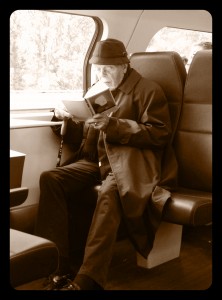 Yesterday when I was out and about- on the never-ending quest for new fun and adventures,  I saw this man.   He was sitting across from me in the train (in the silent car) and even though you can't see it in the photo- he walked with a cane.    He looked at me and we exchanged smiles.  He sat down, pulled his book out of his coat pocket and began reading.
I found myself smiling and wishing that we could have a conversation.   I wondered about his life and what adventures he had been on in his own life, and I'm quite certain there are many.   For a moment we had a connection, and for that I'm grateful.
That brief encounter reminded me of a poem a dear friend gave me many years ago, around the time I was graduating high school.    I don't know who the author is- but it simply says:
Life is but a journey on a train,
With a pair of travelers at each windowpane.
I may sit beside you the whole journey through,
Or I may be seated elsewhere, never knowing you.
But if fate should mark me to sit at your side,
Let's be pleasant travelers, it's so short a ride.
This really made me think about the previous post I wrote about how people come into our lives for a reason, a season or sometimes a lifetime.   This poem is so fitting because it doesn't really matter who the passenger is- or how long they have a place in our 'train', we should have pleasant travels with them and if (or when) the time comes, we should wish them well on their journey and be grateful for the moment (however long or short) that you had with them.    Life really is too short for anything else.