June 1st, 2012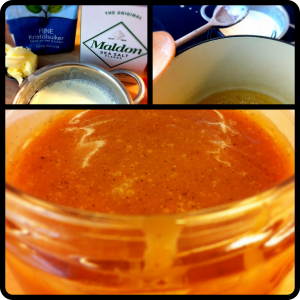 This weekend I'm going to be whipping up a new cupcake flavor in the "cupcake kitchen" so today I decided to whip up some caramel sauce, since it's a key ingredient in what I'll be making.   That's all I'm going to say about exactly 'what' it will be, but I definitely need to spend a little more time talking about this caramel sauce.
It was my first time ever to make it-  which is odd, considering I've been making caramels since I was 15 and making them for my star football player boyfriend as an after game treat.
This was a little different- also because I tend not to use a candy thermometer and do things by the way they feel and smell.   My first attempt wasn't a completely success.  In fact, it was a little scorched.  It wasn't bad- and probably would have actually been good on something like creme brulee' but in the end I tossed it and started again.   This time shortening my cooking time one minute-    That was exactly right, and the result was a delicious, creamy caramel.
I can't wait to put it to use this weekend-  Sunday to be exact.  I'll share photos of the finished product.  Until then- you'll just have to guess.
I'm heading into a sugary weekend.  Tomorrow I'm off to a day of fun and workshops all related to sugar art.    Some of the top names in the sugar artistry business will be there- so I can't wait to see how I will be inspired and what I'll learn in the workshop.
What do you have on your agenda for the weekend?