April 20th, 2009
Good morning from the sunny, but chilly train station.
It's the begin of a gorgeous day here in Neverland, and I figured since the train is delayed, I could take this moment to tap out a few words.
Marcel brought me to the station this morning. I generally walk, and always enjoy the time to observe my surroundings, but with my knee still giving me problems, I figured it best not to make the trek on foot. I think it's a nerve issue, something pinching when I walk, but I can't be sure, so if it doesn't correct itself- off to the doc I go.
The train should be here momentarily, so let's see if I have a connection to send this.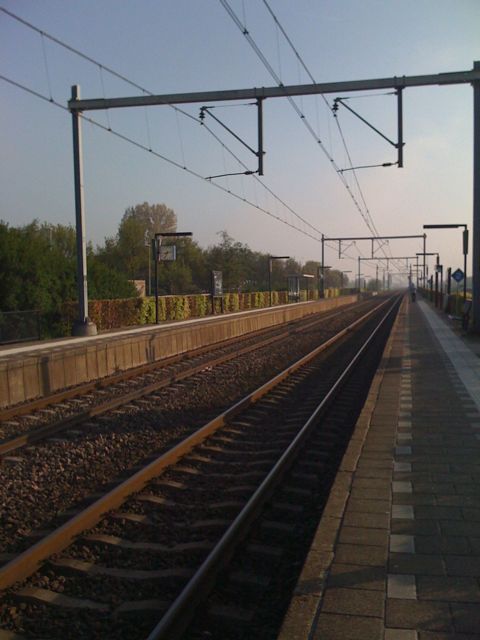 *EDIT*  I actually wasn't able to send this until much later because I couldn't get a connection until after Bible Study, and  then it was when I was sitting in the parking lot at the grocery store.   Since I don't have phone service on my iPhone until July, I have to beg, borrow or steal wi-fi connections, and they aren't always available.  (Shhhh, don't tell the unsuspecting people with unsecured wi-fi connections).
Tomorrow, Marcel and I have plans to visit the tulip fields, so maybe, just maybe I'll be able to get a signal and share a few things from 'on location'.
3 Responses to "On location (Morning Train)"